---
PHILIPPE DUCHEMIN
PIANO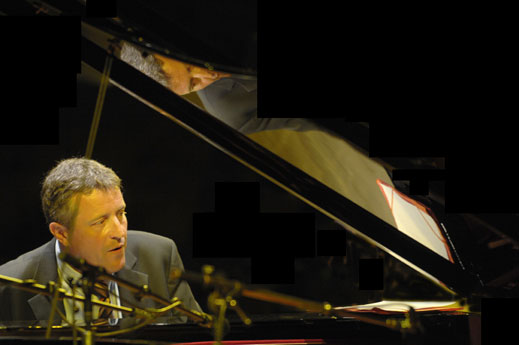 1980: Philippe Duchemin broke into the Paris jazz scene and became a regular performer at the NEW MORNING, PETIT OPPORTUN and HOTEL MERIDIEN. 1981: He recorded with the MIDDLE JAZZ QUARTET and played in jazz festivals at La Grande Motte, Angers and Le Mans.1983: Marked his meeting with the famous KENNY CLARKE who hired him in his JAZZ AND LIBERTY band. 1984: Philippe Duchemin was appointed musical director of the Centre Jacques Prevert Jazz School in Le Mans.1985: He recorded a homage to COUNT BASIE with MICHEL ATTENOUX, JOE NEWMAN and BENNY POWELL. 1986: Duchemin obtained the Diplôme d'Etat de Professorat de Jazz. During this year he conducted the orchestra of American SPANKY WILSON and played with the great LIONEL HAMPTON ! 1988: He recorded FOUR BONES with François Guin and also performed with RAY BROWN and BOB MOVER. 1990: Duchemin became the pianist of the French-Spanish band PARIS-BARCELONA and recorded 2 CDs with the group. 1991: He was pianist for PIERRE SCHIRRER and recorded 2 CDs, one with FRANK WEISS, and the other with organist WILD BILL DAVIS. Duchemin also self-produced his first CD, "ALIZES", with his own Trio and received acclaim by critics. 1992: His second CD, "TRIO LIVE" was released, distributed by MEDIA 7, which brought the Trio international recognition.
1993: Duchemin recorded his third CD with his Trio, "THREE PIECES", distributed by Night & Day. Oscar Peterson wrote, "I very much enjoy this French pianist" and Martial Solal commented, "A very beautiful record". 1995: Duchemin's Trio was engaged by tap dancer VICTOR CUNO and his troupe for a tour of the major cities in Switzerland, Belgium and Germany. Duchemin also toured with the legendary American tap dancer CHUCK GREEN. 1996: Duchemin produced a private CD recording by the Trio for tap dancers, "ENCORE".
1997: A year of concerts with vibraphonist DANY DORIZ, DUFY JACKSON, the former drummer of the COUNT BASIE ORCHESTRA, and ALVIN QUEEN.1998: Philippe Duchemin appeared notably at the Marciac Jazz Festival with BENNY WATERS and on a jazz cruise on the "S.S. Norway". A new CD was also released with the Trio, "THREE COLORS". 1999: Philippe Duchemin appeared with saxophonists RED HOLLOWAY and GIANNI BASSO. He also made the CD "MAGLI CHANTE ELLA" with singer MAGLI LEON. 2000: Included concerts in Barcelona. 2003: Duchemin went on tour to Africa, performing in Senegal and Burkina Faso. During this year he also gave concerts in Bucharest, Romania. 2004: Philippe Duchemin released his CD tribute to Oscar Peterson, "FOR OSCAR" with piano, guitar and bass, the same line-up as the famous Peterson trio. 2005: Tour in Jordan for "Alliance Française", concerts in Gambia and Senegal. Records the CD "On the New Jersey Road" in New York with the Vibraphonist DANY DORIZ. 2006: Again in Jordan with his trio. Performs in France with the great saxophonist SCOTT HAMILTON. Plays with the american singer MANDY GAINES in many Festivals in France. 2007: Two tours in West Africa with his Trio. French tour with MANDY GAINES, AUSTIN O'BRIEN. Invited to play for the "Radio-France" Festival in Montpellier.2008 : Cruises in South America, Grece, Spain. Concerts in Holland, in Washington D.C for "Allaiance française", record with the singer Austin O'Brien, patron of the festival "Jazz en Mars" in Tarnos (Landes), concerts with the american singer Deborah Brown, Scott Hamilton, Bob Wilber, Marcel Azzola. 2009 : Concerts in Brussels, tout in Marocco for "Allaiance française", cruises in Israel, Dubai, Libya, Greenland. Montauban Festival's "carte blanche", La Baule's Jazz Festival, Pleneuf-Val André, Monségur Jazz Festivals. Tour in Brasil (Jazz Festival Brasil).
After begining with private lessons, around 11 years old, Dano Haider started to get interested in jazz, thanks to his uncle, Joe Haider, a famous pianist in Germany and Switzerland, listening to Wes Montgomery, Charlie Parker, Barney Kessel, George Benson...
In 1991 he decided to study at the Jazz school of Bern.
During this professionnal initiation, he learned the basics of jazz-harmony, took lessons with Frank Sikora, instrument, arrangement and composition, rythm with Billy Brooks, guitar with AxelFischbacher, Ira Kriss...
And participated in many workshops, (Bruce Forman, Philippe Catherine, Cedar Walton...)
He also started playing in concerts with several bands in Switzerland, (Bern, Lausanne...), then Germany, Alsace, and of course in the South of France, around Montpellier where he grew up!
He has participated in various projects, such as Guitar Duos (Vittorio Silvestri, Pascal coriu, 7 str guitar duet with Tony Marshall...)
Organ Trios (Patrick Villanueva, Florent Gac, Jean Yves Jung...)
Piano Trios with Philippe Duchemin (tours in France, Sénégal, US, Belgium, cruises in the Baltic sea, Greece, South America...) and also with the Nicola Sabato Trio feat. Jeff Hamilton.
He has also accompanied singers like Lisa Doby (1998) Clothilde Rullaud, Fanny Werner, Kelda Knight.
He played concerts with Pierre Boussaguet, Harry Allen, John Swana, Jeff Hamilton, Cécile Verny, Ahmet Gulbay, Florin Nicolescu, Olivier Hutman, Marcel Loeffler...
He's currently performing with the NHF Trio, Guillaume Naud (org) and Vincent Frade (dr), feat. Fanny Werner (voc), in the spirit of the mythic organ trios, (Larry Young, Lonnie Smith, Wes...) the Jurgen Hagenlocher quartet feat. Alex Sipiagin, which is a modern jazz Band focussing on compositions, and his own quartet, with Nico Morelli (piano), Michel Rosciglione (Bass) and Luc Isenmann (dr) with a lot of original tracks too,

DANO HAIDER
GUITAR




He studies the bass and the electric bass at the jazz department at the Villeurbanne ENM as well as the classical bass at the conservatoire in Lyon. There, he works under the supervision of the soloist of the Lyon orchestra, FERENC BOKANY. He plays with recognized musicians: LARRY GRENADIER, JOE MARTIN, LUIGI TRUSSARDI...

In 1996, he wins the 1st Prix de la Défense with the Collectif Mû, and they make two albums together.

He accompanies various musicians: ALAIN JEAN-MARIE, LOLO BELLONZI, STEVE GROSSMAN, GEORGES ARVANITAS among others.

In 1998, he moves to Paris and he teaches the electric bass at the Juvisy conservatoire.

He plays in the Parisian jazz clubs with OLIVIER TEMINE, JEROME BARDE, KIRK LIGHTSEY, JEAN-LOUP LONGNON, RICK MAGITZA, STEPHANE BELMONDO...

He records several albums with the bands of FABIEN MARY (Django d'or jeune espoir), JEAN-LOUP LONGNON and DAVID SAUSAY, and he regularly plays with them as well as with other bands, such as those of MOURAD BENHAMMOU, SOPHIE ALOUR, PIERRICK PEDRON ...