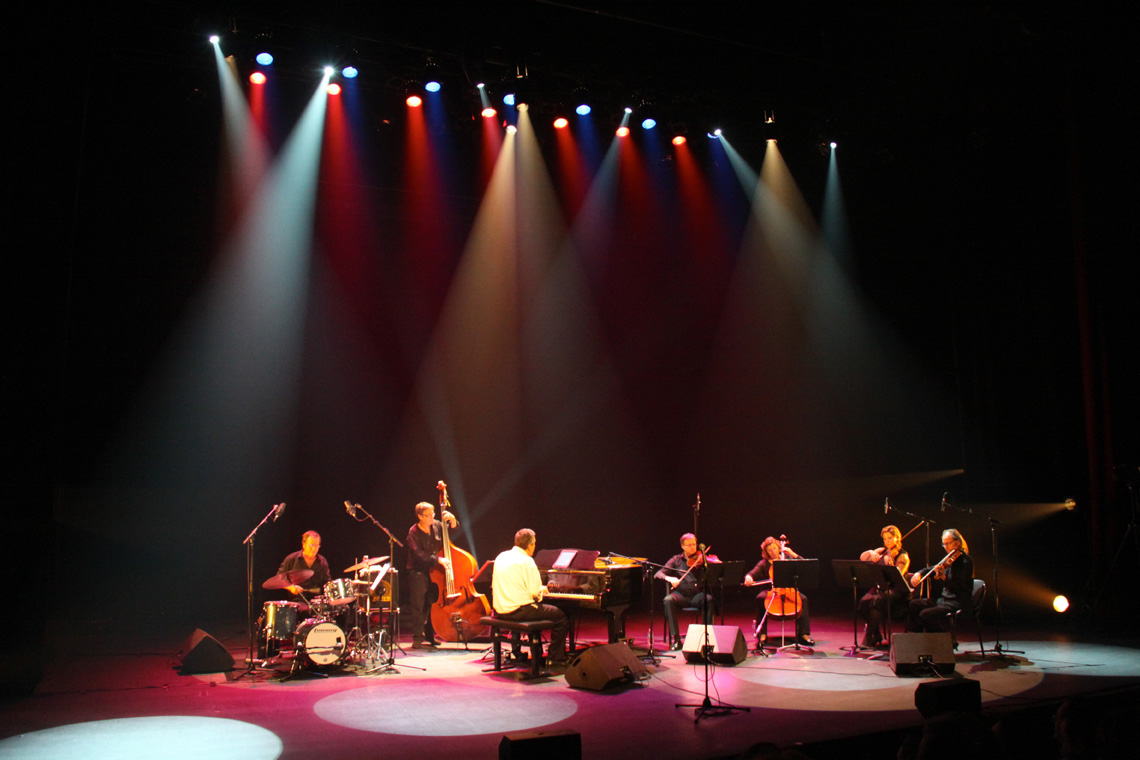 photo Laurent Lannoy
Un projet original au service de la créati

An innovative idea :

"when a jazz trio meets a string quartet"

on et de la transversalité :

Equally passionate about classical music and jazz, the pianist Philippe Duchemin, holder of the Diploma in Jazz , whose well known talents are evident in his recent CDs , also wished to unify jazz and classical music through musicians of both cultures.
In order to do this he has composed an original programme for a string quartet and a jazz trio which sheds a new light on jazz classics known by jazz fans and musicians alike based on the inspiration of classical composers such as Bach, Chopin or Tchaïkovsky. The new works (1) have already been arranged and rehearsed and need only be included into an organiser's concert programme.
(1) The first CD was recorded after the "Jazz in March" 2012 festival at Tarnos (Landes). Label Black & Blue.
pu
---
| | |
| --- | --- |
| | TWO OPTIONS ARE AVAILABLE |
---

The Philippe Duchemin Trio
together with his habitual string quartet,
the Quatuor du Maine.

Option 2

The Philippe Duchemin Trio with another, concert booked string quartet. The latter comprising either existing musicians, or music teachers (or accomplished students) or Music Academy students.
In this instance, music scores would be given to the relevant string quartet in pdf format sufficiently well in advance and Philippe Duchemin would personally supervise rehearsals before the concert. He would be joined by the other two members of the trio for the concert itself.
During this period of residence other cultural activities could be envisioned such as open rehearsal, a masterclass, pre-concert appearances or media interviews.
This option allows a creative interaction with the Music Academy or School (with teachers and students alike) and the development of a quality cultural agenda which would galvanise the public and guarantee a significant number of concert attendees.
| | |
| --- | --- |
| Swing & Strings with the MIDI STRING QUARTET (TOULOUSE) photo Laurent Lannoy | Swing & Strings with the ATLANTIQUE STRING QUARTET (BAYONNE) |
| | |
| --- | --- |
| | These two options have been so designed that they will integrate harmoniously into the musical programme of a local community, either during a specific season of events or during a particular jazz or classical concert event. |
+++----+++
---
---
The Philippe Duchemin Trio

The path that has been followed by one of our best national pianists - Philippe Duchemin, goes from Oscar Peterson to Bach via Erroll Garner. Gifted with an exceptional rhythm and constant innovation, his virtuosity is a must. His musical career speaks volumes - with 6 own name albums plus over forty other arrangements and recordings. Philippe has also recorded and played with Lionel Hampton, Kenny Clarke and Ray Brown.
These days, accompanied by two of the most rhythmic musicians - the Le Van brothers - he tours the concert world often rendering homage to his inspiration, Oscar Peterson.
On his last CD, "Massilia", published by Black & Blue, he injected a truly impeccable and energetic rhythm. The excerpts, reprises and original pieces that he chose are a pure delight, their dynamism was played with surgical precision. Philippe is not only a great pianist but an excellent orchestral leader!
It's also worthy of note that the trio won the first prize at the 2011 Montauban international competition presided by Monty Alexander.

---

Julien Kaldirimdjian : violin I

Julien commence le violon à l'âge de cinq ans et entre au Conservatoire de musique et de danse d'Aix-en-Provence, sa ville natale, et obtient en 2000 un Premier Prix de violon, de musique de chambre et de solfège. En 2001, il entre au Conservatoire Supérieur de Paris dans la classe de Bertrand Cervera (co-soliste à l'Orchestre National de France) et terminera son cursus en 2007 après un cycle de perfectionnement. Durant ces années, il suit des master-class avec des solistes internationaux tels que Jean Ter Merguerian (Premier Prix au Concours Marguerite Long-Jaques Thibaud), Hratchia Haroutunian (Premier Prix Wieniawski).
Depuis janvier 2009, il est membre de l'Ensemble Naïri, orchestre de chambre, qui aborde un répertoire alliant les grands compositeurs classiques à la musique issue des folklores du Caucase.


Enseignant, il est titulaire du Certificat d'Aptitude de professeur de violon et enseigne au Conservatoire à Rayonnement Départemental d'Alençon.

---

Estelle Imbert : violin II

Estelle Imbert débute ses études musicales à Briançon (05). Après un premier prix de la Ville de Paris en violon et musique de chambre en 1998, elle obtient en 2001 le Diplôme d'Etudes Musicales du Conservatoire National de Région d'Aubervilliers-La Courneuve comprenant un premier prix en violon, musique de chambre et histoire de la musique.
Titulaire du Diplôme d'Etat de professeur de violon, elle enseigne à l'école de musique de la Communauté de Communes Orée de Bercé Belinois ainsi qu'au Conservatoire à Rayonnement Départemental du Mans et se produit régulièrement en orchestre et en musique de chambre.

---

Marin Trouvé : viola

Originaire de Bretagne, Marin Trouvé fait ses études musicales au CRR de Boulogne-Billancourt, d'où il ressort titulaire d'un premier prix à l'unanimité à dix-sept ans. Il entre ensuite au CNSMD de Lyon. Diplômé en 2006, il se perfectionne ensuite auprès de Hartmut Rohde (Berlin) et Jesse Levine (Yale-USA).
Sa passion pour la musique de chambre l'amène à jouer dans les festivals du Périgord Noir, du Parc Floral de Vincennes, du Pays d'Ans, de l'Epau... Altiste à l'orchestre de Besançon Franche-Comté depuis 2008, il est aussi titulaire du Certificat d'Aptitude et enseigne au Conservatoire à Rayonnement Départemental du Mans.

---

Annie Boy : cello

Après des études au conservatoire du Mans elle obtient les premiers prix de violoncelle, de musique de chambre et de formation musicale, puis un premier prix de violoncelle et de musique de chambre au conservatoire de région d'Aubervilliers La Courneuve. Annie BOY obtient le diplôme d'état d'enseignement du violoncelle,1ère nommée en 1990. Elle enseigne actuellement au conservatoire du Mans et à l'école de musique d'Arnage Mulsanne. Membre de l'ensemble instrumental de la Mayenne et de l'ensemble Cénoman, elle se produit très régulièrement en orchestre et en formation de musique de chambre.
| | |
| --- | --- |
| | |
| | |
| --- | --- |
| KE, TOMMY FLANAGAN, HORACE PARLAN, JOHN HENDRICKS, DIDIER LOCKWOOD, LEE KONITZ, SONNY GREY, CHRISTIAN ESCOUDE, CHRIS WOODS, PETER KING, BOBBY PORCELLI, MICHEL PEREZ, MICHEL LEGRAND, JOHNNY GRIFFIN, RAY CHARLES, SONNY STITT, ERIC LELAN, JOE NEWMAN, ART FARMER, CHET BAKER, JOE DURIO, DEE DEE BRIDGEWATER... | |